North Korea carried out a test of a rocket engine that could possibly power an intercontinental ballistic missile to take one of its nuclear devices to the US mainland, Rueters and Fox News report.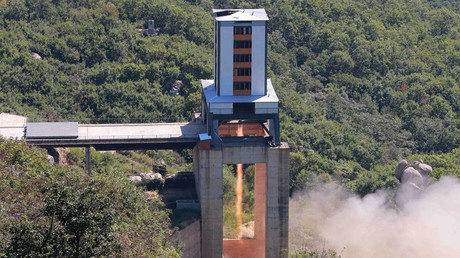 North Korea tested three similar motors in March, which could benefit its space programs or efforts to threaten the US mainland.
Engine tests have been a particular concern for observers of North Korea, as the engine previously employed in missiles, the Musudan, had a terrible track record and several recorded failures.
Mike Elleman, the senior fellow for missile defense at the International Institute for Strategic Studies, said that North Korea may have started to domestically produce a rocket engine it better understands and can more quickly integrate into weapons.
The test also coincides with intelligence reports that North Korea would test a nuclear device. But a US official conceded to Fox News that although spy satellites have spotted increased activity around the test site, "nobody knows what that means."
The US has recently tested a missile defense system meant to counter launches from North Korea, but in reality, it's woefully unprepared for a serious missile attack.